Zirroco's Restaurant & Bar is a restaurant currently owned by Whity Sare, but formelly owned by Nickoli. It is the #1 italian restaurant in Catsville. A new theme park is now open, called Zirrocoland, including a rollercoaster known as Ziro, The Super, Duper, Amazing Rollercoaster.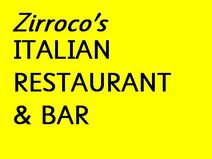 Opening
Zirrocos is probally the newest restaurant in Catsville and was opened shortly after the opening of Le Blonk Charmo. Zirroco's unlike Caliente Gatos was actually a broken down building before it became Zirrocos. Zirroco's has changed overtime though.
Nickoli Era (may-june 2009)
During May-June 2009 (mikes freshmen year) Zirroco's was owned by Nickoli and was a competive restaurant against Whity's Le Blonk Charmo and apparently any business Whity may own. Nickoli built the restaurant along with his then-cool partner F-Steve.
Whity Era (june 2009 - present)
Whity and Nickoli finally came down to thier senses and decided to work together in order to continue to the Zirroco's business. Allthough Nickoli had half ownership of the restaurant, he never did contribute to Zirrocos after that, after he built Gaudet Studios, he simply left Zirroco's to Whity.
Zirrocoland, Ziro and Zirroco's Cafe
Whity definitively expanded the Zirroco line, or "Zirroco Business" as, Whity Sare built the first ever theme park in Catsville, Zirrocoland and the roller coaster Ziro. Whity also has built Zirroco's Cafe, sitting on the location where Le Blonk Charmo. Since Whity ran the restaurant it has been re-branded Zirroco's instead of the longer, former name. Zirrocoland is closed as of 2017, according to Whity. December 30th, 2016 was it's last day in operation. Currently Zirrocoland is standing but not operating.